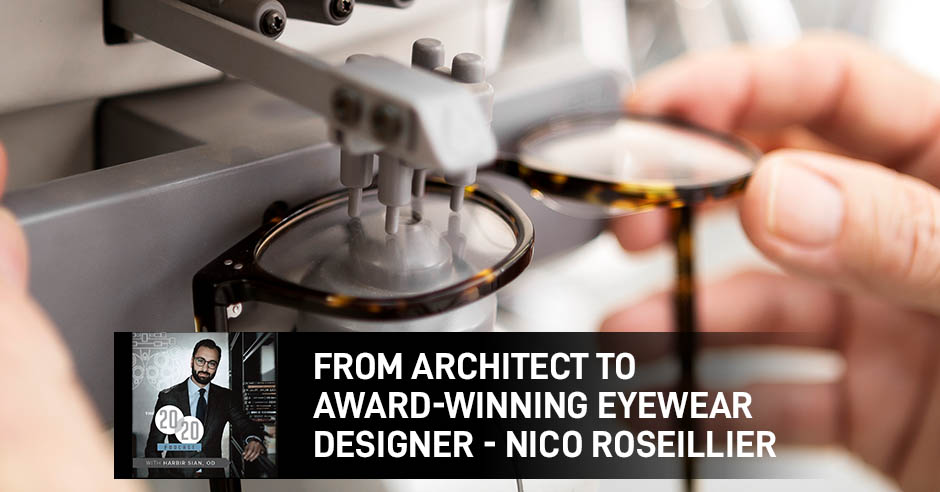 Eyewear is more than just vision; it is also style and the story behind it! The story of how Nico Roseillier came to the United States is a remarkable one for sure. He arrived in New York with a background in architecture but no background in speaking English. Today, he has worked with dozens of recognizable frame brands, designs exhibits at Vision Expo, and has received awards for his eyewear designs. In this episode, we will learn about Nico's plans to make a new dent in the eyewear industry with his new creative agency, UN-TI-TLED. So hit that play button? See through the lens of an award-winning eyewear designer how UN-TI-TLED is making waves in the industry.
—
Watch the episode here
Listen to the podcast here
From Architect To Award-Winning Eyewear Designer – Nico Roseillier
Thank you so much for taking the time to join me here. I always appreciate all the support. Here is one of the things regarding support before we jump into this episode. You may have heard me say this already, but we had a glitch with Apple Podcasts where they deleted all of the reviews and ratings that were on The 20/20 Show on Apple Podcasts. We had 50-some 5-star reviews, and they're all gone. I'm asking humbly, if you wouldn't mind, please leave us a review.
As always, please do share it with your friends, put a link on LinkedIn, send a text to them, put a screenshot up on Instagram, tag me and Nico, and tell us what you took away from this episode. We're trying to bring the best quality content that we can. My wonderful guest, Mr. Nico Roseillier, who's now his second time back on the show, is the eyewear designer extraordinaire, award-winning eyewear designer, and the Founder of the UN-TI-TLED Creative Agency. I'm very happy to have you back, Nico. Thank you so much for being here.
Thanks for having me.
Nico and I did a little mixology session. Nico was formerly a bartender as well to add to his very decorated and varied resume. He has his own recipe for an old-fashioned. Call it The UN-TI-TLED Old-Fashioned. It's quite delicious. Let's talk about something useful here. Nico, some big change is happening for you. I'm excited for you starting The UN-TI-TLED Agency. I know this is something that's been in the works for a while, but you finally hit the ground with this. I'd love for you to tell us, first, who you are for the people who may have not met you or seen you before. What's brought you to this point? Tell us a little bit about what you've done in your history, and then let's talk about UN-TI-TLED.
I moved to the US many years ago. I've been doing it for a while. I'm an architect from trade study, inter-architecture in this industry, and design engineering back in France. I fell into the eyewear world by meeting people. Here is a funny little story. When I was younger, before I went to art school, I wanted to be an optometrist. I tried to go to a different school to do that. Every time, there was the wrong path, and then it was like, "You got to do this." In the end, I lost the idea or went to the art. Fast forward, now I'm in it.
I opened my own company in New York. Back in the days when I moved with a partner, we were doing installations, different marketing, products, and a lot of different stuff. I'm starting to do things for an eyewear company. One of our first clients in the eyewear world was Bevel with Richard Mewha. I loved those guys over there. That was our first intro to designing, but not designing glasses. It was booth design and things like that. I then went on and did some work for SCOJO Vision before they got bought by OGI.
That was on the reader's side and that gave me a different aspect of the industry into the non-optical side of the business. Also, I was a Creative Director at MODO for almost four years. That was great. I love those guys over there. Great company. We then moved to Los Angeles for ten years where my boys were born. I was there for ten years with REM, and then De Rigo REM for a year or two. After that, we moved to sunny Chicago.
Chicago's been five years.
It goes fast. Now, I'm in a new venture. That's interesting. It's been a long time. People have been asking, "Are you going to do something?" I still don't know. I'm still trying to figure out what I'm going to do when I grow up. That's the idea. We started UN-TI-TLED.
It's a great journey. I knew the architecture background, but I didn't realize that you had experience working with eyewear companies doing design for them in that capacity of booths and things. How did you start designing eyewear? Where did that happen? You probably told me, but I don't remember exactly what that moment was.
When I moved to a country where you do not speak the language at all, when I moved to New York, I could not even go to Delhi by myself. It was crazy. When I met my wife, I barely spoke English too. I used to say yes to everything. I think that's why she fell in love with me. A job will come. I was like, "Sure, I'll do it." Someday or somewhere somebody asked if I could design glasses, and I say, "Yes, I'll figure it out." That's what I had to do. I had to figure it out very quickly, and understanding the mechanics of it. For me, I thought it was very interesting that my background in engineering, architecture, and then in design mixed perfectly together to design glasses in terms of the line and proportion.
I fell in love right away with it. I used to spend a lot of time when I was commuting in New York looking at people in the subway to see the way they were wearing stuff. I'm sure that I was a freak, but that's a good time. I do remember the first time I said, "Yes, I can design glasses." Designing my first one was not what I was expecting when the sample came in. I remember going home that night and thinking, "What did you just do?" It's been many years. It's 25 or 26 brands later. It's fantastic brands, fantastic companies, and great people that I met along the way. I'm far to know everything about eyewear, and I do hope that I never find everything about eyewear, so I can still learn every day. The most important path in life is to keep on learning and exploring your art.
The most important path in life is to keep on learning.
My style many years ago versus now is very different. During lockdown a few years ago, I went through my closet to go through all the prototypes and stuff that I have here. It lines up close to 3,000 frames. I'm looking at stuff that I designed many years ago to these things that I designed this 2023. It's very interesting to see that there's definitely a story there. There's not necessarily a progression, I would not say things many years ago were bad. It's just style and things change. Because we link in fashion, things also go back. It's a very interesting path to look at. It's been interesting.
It certainly is cyclical. It seems like most things in the world happen to be that way. There tends to be a lot of repeat in history in general if we go broad. In fashion, I'm like, "I don't need baggy pants and tiny sunglasses. Why are those back in fashion right now?"
It's all for us because we lived through it once.
At the time I was a kid, it felt okay. In the '90s, I was like, "That's what people are doing." Now, I'm like, "Please do not bring in those and the pants that you could fit three people in." I'm good without that, but that happens. Are you finding some of your old styles back in style? Is that a thing?
It's not necessarily exactly design for design, but it's definitely going back into the narrow thing, going back into the cycle of thick acetate versus light acetate. It's interesting that the inspiration behind it changes. That's also the thing, like the brands you apply it to change, or from license to independent. Whatever it is, you create that story that brings different things together. There is some stuff that goes around. You're like, "We're back at this thing." I always say it's interesting when I see my kids and they're like, "Dad, did you see this?" I'm like, "Really?" For them, it's brand new. They're super excited. I feel like I went through it already once or twice.
I'm feeling so old lately because I remember when I was a kid, my dad used to say, "That's what I used to wear when I was younger." My mom was like, "That used to be back in style back in the '70s. We should have kept all our stuff." Now, my wife and I are like, "We should have kept all our stuff from back in the '90s because so much of it is back in style." I've been feeling a little old because of that, but I'm going to keep wearing the things that I feel comfortable wearing.
This is what comes as we get older. Find the thing that is you. That's what you got to stick to. Sometimes I look at some stuff in fashion. I'm like, "I'd love to try this." I'm like, "No, I'm not going to do that."
What's happening with UN-TI-TLED now? What's the vision? I know you're still trying to figure out what you're going to do when you grow up, but blue sky or ideal situation, what do you want to see yourself doing in the next five years or so with the agency?
I created UN-TI-TLED because I feel that I've done so many different things in the industry. For me personally, I don't see myself as an eyewear designer. I design tradeshow booths. I design packaging. The old experience or the old DNA aura around a collection from the advertisement campaign to however the brand is going to be presented is the stuff that I love. It then happens that it's also supporting eyewear. I looked at it and thought, "There are people out there helping other companies design glasses and collections. There's nothing new to that." I thought it would be interesting to take all of that creative direction that I've done over twenty-plus brands and be able to help a company that may not have the budget, the manpower, or the size to get a creative director full-time in-house.
Somebody who launches a new collection that needs help from the trend, research, and design all the way to the execution, to advertisement, or campaign and the marketing side, or somebody that maybe needs more parts of things, that's the reason why this whole thing was created, UN-TI-TLED. I've been spending a lot of time this summer to simmer, sit with that, and talk with a lot of people and a lot of my friends in the industry. I'm trying to figure it out. I think, "This is great. This works." I'm already working with some great companies and friends helping them along the way to bring their collections to the next level and to new designs and things like this.
I'm working with a few companies like CEV or Clear Eye Vision. Jamal was a good friend of mine. Fantastic brand and fantastic people, to be honest. That's another thing. I want to work with great people. The collection is called Anwuli with Dr. Nwamaka who is amazing. I love this woman. The first time I met her, her energy and everything, I was like, "I got to be friends with that person." Now, we're working together on designing some new models for 2024. There are few things like this that have already started, but people always have been asking, "When are you doing your own line?" They're still asking that. I'm still trying to figure it out. Hopefully, one day. It's a goal of mine. I don't want to put a date or an expiration.
It's going to feel right.
It's going to feel right. It's got to be with the right people. I do believe that UN-TI-TLED was also created to help doing collaboration. You and I talked about that before. I love collaboration. I love working with other people and mixing things together, like the collab I did with Maxwell. Max and I are still talking about what's the next we'll be doing together soon. There are lots of other companies and people out there that I've been asking and I'm working on some new collabs in some ways.
It's not about making money. It's about the art, the story, how we bring things together, and create something different. That's what I'm looking at with UN-TI-TLED. It's to be able to let the process, the art, the product, and the story talk for itself. It's not about putting names on everything. It's about letting things simmer, letting the process go, and bringing people on board. For a side story, this summer in France with the family, I went to see my parents. We stopped by Paris. If you're ever in Paris, do yourself a favor. See the Louis Vuitton Foundation. It is mind-blowing, just the building. It's a Frank Gehry building. I'm a huge fan of Frank Gehry. The proportion and the size of the building are nothing you ever experienced.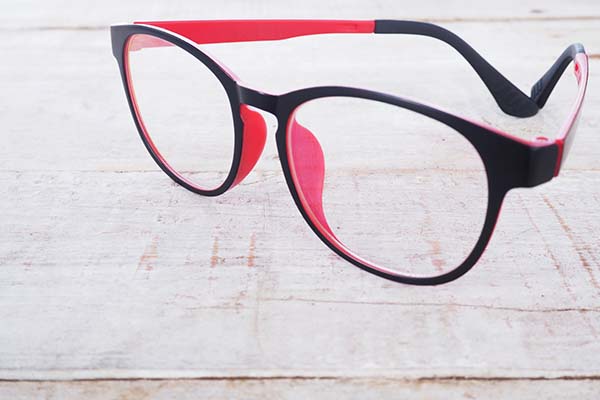 This summer was an exhibit on the 3 to 4-year collaboration between Basquiat and Andy Warhol. It was over 140 pieces of art, the biggest representation ever done. It was the way those two were working together and even bringing some other artists to come and contribute to the art. I looked at it and I was like, "This is what I love." I realized that I love doing a collaboration. For me, I don't see myself helping or working with CEV or Anwuli. I'm looking at the collaboration. We are collaborating together on how to make things different and how to bring the story to the next level. It's the way I look at it. All of that is about collaboration.
Collaboration is so important in general to help the industry grow. There's a book called Wired to Create, a great book. One of the core concepts in there is a lot of the genius, groundbreaking, and industry-changing ideas that are often created at an intersection between two existing ideas. A lot of times, we think about something, and, out of the blue, you came out with this genius idea. What happened more often than not is two existing lines of thought came together and created something different and new.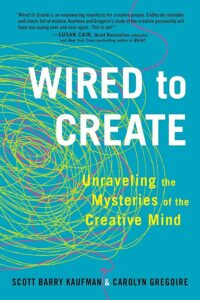 The idea of collaborating and bringing two amazing artists together, or bringing two brands together, or yourself and another creator coming together, that's where all of a sudden something brand new will come that wasn't there before. A lot of times, we worry about doing our own thing, and we don't want to share our ideas with other people, but we're doing ourselves and everybody else a disservice by not collaborating with that. That's cool. I look forward to more of your collaborations.
One of the words that you've said over and over, which we want to dive into a bit, is story, storytelling, and creating a story. For you, having worked in-depth with these different brands and literally designing stuff from scratch, I've seen your storyboards or your mood boards and these things in your office before where you've taken inspiration from a building or a wall, maybe the way certain colors were. You are a creator, so you see the story from the ground up, to the point of a prototype, to the point of a finished product.
Somebody like me or someone else working in a store might say, "It's just a frame. How do I distinguish this frame from that frame and this brand from that brand?" That's a really important point. I know that you feel very strongly about this. This is one of those things that if we can dive into, I'd love to hear your thoughts on it. We can send our audience home or back to work with this understanding of the importance of the story of an existing brand and product, how to tell that story, and why that will differentiate the brand, that store, and that person from other people selling frames as well. What do you think? I'm going to let you run with the importance of story and storytelling in eyewear.
I've been very passionate about this subject for a little bit now. It's been a few years, but I had this time creating UN-TI-TLED to figure out what that means. I had dinner with somebody that I know through the industry. We know each other from seeing each other at the show and being on some committee. You think you also know people through Instagram and the product. We had a nice dinner together, and I learned so much from this person that I had no idea about the personal stuff and things that that person went through. I thought, "That is interesting." When you go to the shows, you meet people, and you introduce yourself, you just introduce yourself. You'll have a conversation about the business or whatever. You don't truly know somebody, like what made you and why you're here doing this.
I thought it would be interesting if every time you meet somebody, you could use five words to describe your story or describe who you are. On top of my head, for me, I'm French. I'm a designer. I'm a creative person. I'm a father of two. I'm a husband. I'm a runner. What are those five words? What is your story? In parallel with that, I've been describing my role over the last few years as a storyteller. You saw my trend boards and everything. What makes a collection different than another? I go to the shows as a designer, especially when I go to MIDO, Milan. Also, when I go to the New York show too. I'm sure I would do the same thing when I go to Vegas. When I come back, I'm like, "How much more glasses do we need?"
For real. I also think about the environment and all of that. I'm like, "How much more do we need?" What is the collection that you remember? If you go to a show, there's a collection that you remember. There was one collection for me last MIDO. MIDO is a huge show. I got into the booth and I was like, "Wow." It was not crazy, but it's the story right there. There was a story. There was a point of view. When I design a collection, it's always what I'm trying to think. What is the story behind it? What is the collection?
When I joined Europa and took over STATE, they had one way of their story, which was, "Made in America." That was the story. For me, I thought it was great, but the product is important in terms of creating a story. We did create a story around Chicago. I used a lot of the architectural elements in the story of Chicago and the great architects that went through this city, which is unbelievable.
Architects in Chicago are amazing.
I took a lot of details of that and created a story around it. You could feel and see it through the details. When I go to that, that's my world. My world is on the design side, on the research, on training the story, and on creating the product. Packaging is important to tell the story. It's the first thing you get exposed to. You see people who love watch. Watch companies spend a fortune in the box because this is what you're going to keep. You're going to keep that box on your desk.
You wanted to see if the box is hidden. Anyways, it's all good.
You put the box back there somewhere on the shelf. When I went and visited years ago, the factory in Detroit for Shinola, I got a very nice watch, but the box was unbelievable. The box told the story of the product. I always look at all of that, but then I thought, "How does that industry work?" You're on the road, which you are a lot. You also work in an office in the building. You have people also come, and then also get eyewear dispensed. I thought that was very interesting.
We know that a lot of the practice has a lot to do with relationships. You have your favorite rep. She or he is amazing. They bring cookies. She comes in, you love him, and it's great. That's very important. Service is important. When that person leaves and you receive the frame that you got picked in the tray and you put everything on the board, what's the story? Do you have the right frame for where your practice is? Do you have the right demographic? All of that is very important, but where's the story? It is the stuff that you are passionate about telling the story of, "This is inspired by the color from Barcelona. There are a lot of companies that create that. This is the detail that so-and-so put in because it comes from the fashion world of that brand."
When you're able to tell the story, when you have that excitement because it's something that is special to you and you know you can't deliver back that story to your consumer, it's contagious. Excitement and knowledge like that is contagious all the way to the consumer. People get excited about it. You then see it very often. Some people do a great job. My dear friend, Julia Gogosha in LA, her store tells the story. It's not a store. First of all, you're not entering a store. You're entering an experience. It is absolutely beautiful because it's thought differently. Not everybody can have a store like Julia. It's catered this way. She created that story around the store design, the way she delivered the product, the way it was selected, and what branch she has in. She's also amazing at presenting collections.
If you ever checked out her Instagram, the way she described frame is like no other. For me, that's part of the storytelling. It is by being able, from the start, to tell that story and to explain why you've put those things and the reason why they're there, creating that romance around it. It is by being able to train the people all the way to the person who's going to dispense the frame. I visited an account over the years. I remember the first time I experienced that was when I used to design John Arvatos. To be able to tell that story of the fine details, the rock and roll essence of the brand, and how we apply this was easy to explain. It was easy to tell the story to somebody else.
Those things go a long way. The problem is that we get a little too caught up. I know this happens to me, and I've seen it, but you get a little too caught up in the name or brand type of stuff and like, "It's easier to sell X, Y, and Z brand because it's mainstream and people know the name. It requires a lot less words and effort," versus like, "Let me show you this brand out of this country. They use these materials. This frame in particular takes the shape of this or uses materials from this." It's a lot more work to tell that story, but if you're passionate about it, it comes through. I feel that there's a trend in general to a little less of the name brand and more of the storytelling.
I hope that's true because I personally care more about that too. I feel like a lot of people like to go to their friends and tell them. There are still plenty of people who want to show the logo on their thing, but there's a growing number of people who want to go back to their friends and be like, "Did you know this brand? They do this. Did you know that this brand comes from there? This brand gives back to this community." It's a story. People like to tell stories.
There was this weird piece of research that people choose their vacations based on the stories they can tell about their vacations when they come home. It's not, "I want to go visit this country because it looks like the country that is the place I'd like to visit." It's like, "I'd like to go visit this country so I can take pictures and come back and show my friends I went to this country." It's a human tendency to share our experience and what we're doing. The same goes for what we wear and what we do. In fact, I want to tell you about this t-shirt in a little bit as part of that to go with the storytelling. Eyewear does that. The more we can share the stories in our businesses, the more people have the opportunity to go home and share the stories with their friends and family.
For sure. This is the only object that we wear on our faces. We need to see. I need to be able to see well and drive without having an accident, but it's that idea of how it represents somebody. One day's this, one day's that, but it's an extension of your mood or your story that you put on your face.
Since I've said it already, I'm going to tell you about this t-shirt. I'm going to give a shout-out to one of my best friends, Harj Sandhu. He's probably never going to read this. He was listening to a podcast. He's into that kind of stuff as well as I am. He was listening to an entrepreneur who was talking about his life. He's a very successful entrepreneur, the person he's listening to, but he said, "My life is boring. I go to work. I do this. I go to the gym. I wake up early." Those are the things that led him to become successful. He said, "It's good to have a boring life. Sometimes if you get a little too caught up in the excitement and the immediate gratification of things, often it leads you off track."
I would say that just that part of the story right there resonated with me because I go travel to conferences and, sometimes, on Instagram, it looks exciting, but my day-to-day is I wake up early, I work out, I take my kids to school, I go to work, and I come home for dinner. It's the usual stuff 6 or 7 days a week. Anyways, the day he heard that podcast, he happened to walk into a store. I like to wear suits and stuff like that. I like to dress up, but to be honest with you, most of my wardrobe is not particularly expensive. I don't care to spend a ton of money on stuff. I like nice things, but if they didn't cost that much money and they still look good, I'm good with that.
He's walked into H&M and saw this shirt. It's hard to read this because it looks like this graffiti kind of thing, but it says, "boring pals." He saw that and he's like, "I like that shirt." We have a group of five guys that are kind of our closest friends, our inner circle, and he bought one for each of us. We all have boring lives. We all have kids. We do the same thing every day, but we love our lives. We enjoy our lives. We love our families. We love our friend group. We are happy to be boring pals. I love this shirt and I want to wear it now. Normally, I dress up a little more. I was wearing it because I saw them earlier, and I thought it'd be nice to tell that story as well.
I did the opposite. I wore a shirt because I'm usually just in t-shirts. I was like, "I got to wear a shirt." I love the idea of boredom. I always tell my kids when they're like, "I'm bored. I don't know what to do." I'm like, "Great, because out of boredom comes creativity." Not creativity like drawing stuff, but creativity in the mind. It's important to have that boredom in life and to make you go and do something. My wife is always like, "Can you stop a minute?" I can't stop. I'm always doing stuff. That's the way I like it because I get bored and I go and do something.
With boredom comes creativity.
There's a reason a lot of people say they get great ideas in the shower, while they're sleeping, or when they're running. We're going to talk about that in a second too. It's because you're not active. You are stopped, doing nothing. Your mind has a moment to put some things together. On a boring note, I don't find running boring, but a lot of people would. It is the idea of having the same routine day in and day out for the most part. You go running, for example. That's your workout routine every day. You'd run or you do this, people find that boring. They want variety. They want to change their lives up.
I remember talking to a few people about this over time. You hear this from successful people. It's about enjoying the journey. Now, it's coming to me. We talked about this before as well. It's about enjoying the journey and not just the destination. At the end of the day, this whole thing is a journey. Your days are going to feel a bit monotonous, repetitive, and boring sometimes, but if you can find enjoyment in those things, in the boredom, in the things that you're doing daily, when you get to the end, even if you don't hit your goal and your target, you're still going to say, "I made the most of that. I had a great experience along the way."
Here is something I say to a lot of people. People are asking me, "What's new? What's going on?" I don't know. It's kind of the same thing. Go to work, come home, kids, bedtime, and do a little more work, but I'm trying to enjoy every one of those little aspects of the day. I look forward to my kids running to me, jumping at me, and hugging me when I get home, or the conversations I'm having with my patients, or the workout I have in the morning. Finding enjoyment in those things is very important.
It really is. Every little conversation counts. I'm in for the kids. They're growing way too fast. I told them, by the way. I'm like, "You guys keep growing. Keep getting older. I'm going to take a break. I'm going to wait here for a minute, so you guys can catch up." I've been seeing this thing a lot lately on social media about this whole made-up story. You're on your deathbed and thinking about that moment. Can you go back to that moment? Can you go back to now? How would you enjoy it differently? It's good to think about that when you're bored. It's good to think about that when some days, it's like, "I can't wait for this day to end," if a thing doesn't go your way.
Every day is different, and it's hard. We all go through that. We're all human beings. It's hard to not be angry one day and then not want to jump on the next thing. It is part of the process. I'm a true believer that things happen for a reason. Even when it's hard to see it, even when things, life, and the universe throw things at you in a different way, things happen for a reason. It's one of the reasons why we created UN-TI-TLED. Things need to happen for a reason. Things need to change for a reason. Some days it's faster, some days it's slower, and some days stagnant, but it's just part of that process. I used to think that running was as boring as possible. I have friends who run a marathon, and I was like, "Why would you do that to yourself?"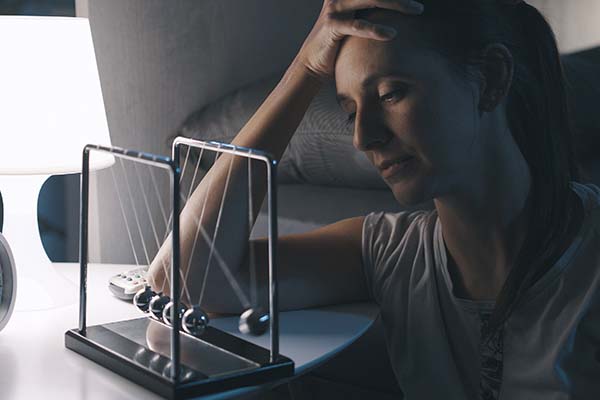 For 3 to 4 hours, you're doing the same thing.
I'm like, "Why do you do that yourself? That makes absolutely no sense."
I can't run a marathon, but my go-to distance is about 10K.
That's good. 10K is great.
You get about an hour's worth of exercise in there. You get time to think. You play things through your head while you're doing it. You've been running for about a year, you said. I remember you said you had your one-year anniversary of becoming a runner.
What happened is that it was a little bit of too much of a good time. We came back from France after three weeks, food, wine, French cheese, and everything in France. I was like, "I got to do something else." I didn't feel right. I didn't feel good. I was starting to think that I may have to go buy a full new wardrobe. I was like, "This is it. I got to do something about it." The kids are brutal. They love to remind you if you got to do something. I was like, "I'm going to go for a run." I went for half a mile. I came back and thought I was going to die. I then went for a mile, and then a mile and a half, etc. I run 12 to 13 miles. I calculate it. I run between 80 and 90 miles a month. For me, it became my time. It's becoming the time when I go and think.
It's a different way of thinking and creating. If I'm running, I'm actually working on some ways of thinking about stuff. I'm designing now. I'm writing a course going to be ABO certified. That's something I always wanted to do, so I'm doing it. I have a deadline, which I love and which is great. It's going to be in November 2023. I'm doing that. I'm running. I'm thinking of how this whole thing is going to go and how this whole thing is going to play out in my head, and then I'm able to put it on paper. It's my time to think. I need it. It's weird. It's becoming like a drug. I'm like, "I need to do it." On some days, like anybody else, we all deal with up-and-down, mental health, and all of that. This has been my savior. Back in the day, I used to pour myself a glass of red wine, now I go for a run.
You can still do that from time to time.
I still do it. I just don't do it every day.
I remember a very specific time in optometry school. We're talking years ago now. We had a few hours until a big exam. In our first year, everybody was anxious. I feel other people's energy. I'm starting to get tense. We had a few hours. Everybody's cramming. I was like, "I can't. My head's about to explode." At that point, I was feeling anxious. I wouldn't have known how to put that into words. I was like, "I have to go for a run." Everybody's looking at me like, "You're crazy. We have an exam in a few hours."
Luckily, I lived at that time very close to school. I lived a few blocks away. I went home, quickly changed, and went for a 45-minute run. Our school's right on the Charles River in Boston. I came back. I felt so good. I went to the exam and I'm good. That's the one time I remember. I'm sure I've done it before that. Now, when that anxiety starts to build up, if I feel tense about something and angry about something, I start to hit the pavement and things change dramatically. Those endorphins are real. They make a big difference.
It's interesting that you get also all those tools to measure all of that. I don't have any royalties or anything, but I'm going to endorse a product. I don't get money for it, just so we're clear. If anybody knows about it, a company called WHOOP out from Boston. It is a fantastic product. It's no screen. It's nothing. It's just there. It monitors your health. If you want to run a 5K or you want to run a triathlon, it doesn't matter. It tracks not just your heart rate but your oxygen level, your sleep, and your recovery. I started this not right away when I started running, but I've probably been on it now for nine months. I love the product. If you're a data freak, which I'm not, but people who are deep into data, it's a lot.
It's got your recovery. It is the idea of sleeping and how important it is for your body and your health. I always tell people, "You have to get your eye exam because it's not just for the vision. You see your own health in it." I keep on pushing people. I'm doing it. This WHOOP is unbelievable. They also have a great blue blocker. I don't know who designed it, but it's good.
For those blue blockers, did you design the frames?
Yes. Everything they do at WHOOP is backed by science and doctors. It's an amazing company because it's backed by science. They do a crazy amount of data, research, and testing before. I designed the frame, but we developed lenses. WHOOP is all about proper recovery, so your body is in a great spot to exercise the next day, which is very important. When I started training, I was going. I was pushing it too hard. You need to leave your body a time to recuperate. All those lenses and all those blue-blockers are being tested for recovery in mind. There's data online out there, so there are two different types of lenses. There's a traditional one, and then there's one that has an orange tint color, which is used for a different purpose.
From John Arvatos to STATE to WHOOP, you've designed frames for everyone. It's incredible.
It's about the story and the people.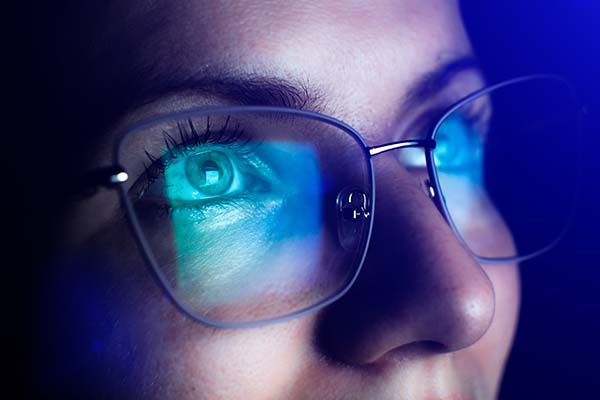 That's so cool. That's so amazing. On the point of recovery, you know I like books.
The other one, I wrote it down.
I don't get anything from this, but I'm promoting it because this lady is legitimately like a Canadian legend Hayley Wickenheiser. I was very fortunate to have her on the show. In here, she said in one of her chapters. Somebody told her that recovery is a weapon. An elite NHL player had told her as she was coming up, "Recovery is a weapon. You can't work all the time. You have to know how to recover and let your body heal, and then you can come back even stronger."
She makes a point to say that when she took that information to heart and started to use recovery, sleep, and all the other stuff as a weapon and as part of her strengths, all of a sudden, she got better. She was already at a point where she was pretty much better than everybody, and she got even better. It's a cool point. Maybe WHOOP can take that and give me some royalties, but it's cool that you're doing that. That's awesome.
It's a great product. It's fascinating. It's everybody's journey. You don't have to train for a triathlon. For me, I had a goal. When I started all of that with three buddies of mine, we decided that we were going to go one night drinking probably too many of those cocktails around the fire pit. We decided that we were going to go hike and do the Presidential Trail. We did it a few months ago. That was my goal, but I realized that it was not about the goal anymore. It was about the journey of going there.
It is not about the goal anymore. It is about the journey of getting there.
After I did it, I realized, "What is the next journey I want?" It was not anymore about what is the next goal. It's, "What is the next thing that I want to do?" You do it for yourself. If you want to run five miles, run a marathon, or go climbing Mount Washington on a snow day, which was great, whatever it is, it's that journey. Life is done the same way. It is about creating that story, finding that journey, what makes you bored, and enjoying that boredom. That's what it is about.
You wrapped it all up beautifully and tied a little bow on it. Honestly, when we spoke before, there were so many different things we could go with, so I didn't make any notes. I didn't write anything down as far as like, "Here are the topics we want to talk about." I just wanted to go with it. We covered a lot of different stuff. There's a lot of fun conversation content here in this conversation hopefully for our audience to enjoy. Any final words you want to share with us before we part ways here?
Thanks so much for having me. I love your journey and I'm following it. Seeing your beautiful family out there too is great. I'm looking forward to the show to the next one. NOW, by Vision Expo, the awards, that is in New York. That would be in March 2023. I wish it's going to be pretty big. It's going to be the second edition of the awards, and I'm excited about it. There are some big surprises coming out of that. I'm excited to see what this new journey under UN-TI-TLED is going to bring and how we're going to be able to have fun, make more collaboration, and change the industry. The industry is growing. The industry is changing every day. I'm trying to do my little part of it and bringing what I love to do to others to be able to enjoy it all together. That's my journey for now.
You will continue to change, then you'll continue to impact the industry for the better. Let's do a quick little moment to talk about NOW and the awards. That's not happening in Las Vegas. It's happening every year in New York at Vision Expo East. Make sure you look out for that when you're heading to New York. What do we want to tell people about the awards? The awards are so amazing. We want people to watch out for the announcements, frames, and things like that so they can be entered into the awards and be involved in that. Is there anything you want to share regarding that?
NOW is a trend pavilion. There are trends that are decided for every season. We change a committee every year. Through that process, every exhibitor, every collection, and every designer who is exhibiting at the show can enter the NOW awards. 2022 was the first one. It was fantastic. We had an amazing product. I'm looking to get even more amazing products in 2023 and more engagement. The reason why I created NOW was I felt that it was time for the industry and for the Vision Expo to be able to represent the story, the trend, and the beautiful work that everybody in the industry is doing. Despite names, size of the company, and pricing, everybody can be represented. That's what I wanted. That's open to everybody.
There's a democratic way about it. It doesn't matter the size of your company. It doesn't matter if you have a brand or no brand. It was good. I enjoyed the process, so we're still doing it for 2024. The only reason why it's once a year is it's a lot of work. It leaves enough time for the companies to be ready and to have and to look at 6 months to 1 year of development and think about, "What is the product that I want to enter for that?"
Annually is a good cadence. Six months is probably too quick. Also, in general, if something happens frequently, it loses its impact a bit. If it happens a little less frequently, there's a bit of a scarcity around it and more demand around it.
If something happens frequently, it loses its impact.
We work very closely with the show and the Vision Council to grow it. We have new stuff coming up this 2023, which is pretty exciting, and then the Optical Achievement Awards, which is always a big one, so that's coming up too.
Nico, thank you so much for being on the show. Thank you for sharing all your insights and for doing everything that you do for the industry. I'm very excited to see what UN-TI-TLED does, how it makes an impact, and how you do as well. I'm looking forward to seeing everything that comes from here. Thank you.
Thank you so much for having me. I'll see everybody at the show.
Thank you, everybody, who's reading. Don't forget to leave a review, please. We lost all our reviews. We need friends to send us ratings and reviews on Apple Podcasts, but also share and spread the word. Share this with your friends. Put up a screenshot on Instagram. Tell us what you found interesting about this conversation. Put a link on LinkedIn or send it to a friend via text. I appreciate everybody spreading the word about The 20/20. Thank you all. We'll see you guys soon.
Important Links